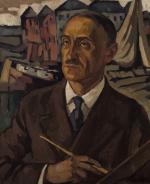 Jacob Shapshal
Jacob Shapshal Heritage
Another important donation to the Museum of Personal Collections was the creative heritage of Jacob Fyodorovich Shapshal (1880--1947). The artist's son, the Swiss doctor Georgy Shapshal, donated forty-two paintings and three drawings to the Pushkin Museum of Fine Arts via the Soviet Embassy in Berne.
Very few Russians have heard of Jacob Shapshal. After studying in St Petersburg and Paris, he fought in the Russo-Japanese War (1904--05). In 1906, he returned to Paris, where he exhibited works at the Société des Beaux-Artes Nationale, Salon d'Automne and Salon des Indépendants. In Russia, he contributed to the exhibitions of the Moscow Fellowship of Artists from 1911.
When the First World War broke out in 1914, Jacob Shapshal returned to Russia. He enlisted in the army and was wounded in action. In 1916, he joined the Moscow Fellowship of Artists, contributing to their and other exhibitions in Moscow and St Petersburg. Shapshal emigrated to The Hague in 1924 and became a Dutch citizen. He continued to exhibit works at the Paris salons and in galleries. He also painted icons. In March 1945, a bomb fell on the artist's studio, destroying many works. His son Georgy decided to preserve his father's heritage for posterity by donating many of the surviving works to the Pushkin Museum of Fine Arts in 1989.
Such early works as [Cliff] (1916) and [Dam] (1917) betray Jacob Shapshal's interest in French [fin-de-siècle] art. Like many Russian artists in the early twentieth century, he was a follower of Paul Cézanne. Often endowing colour with a harsh form-creative function, Shapshal was stylistically close to the masters of the Jack of Diamonds, without ever engaging in the more radical experiments of the avant-garde. Such works as [Female Portrait] (1922) contain only soft echoes of Cubism.
The majority of Shapshal's surviving works, particularly those painted in the artist's émigré period, demonstrate the importance of the natural features of the subject in the stylistic resolution. The master travelled widely across Europe; the landscapes now belonging to the Museum of Personal Collections are like pages from a travel log of impressions. In [Self-Portrait] (1929), Shapshal depicts himself against a cityscape, underlining the importance of the landscape in his art. The artist always attempted to capture the originality of each new place and convey its unique atmosphere and mood. He accorded each view its own special form of representation, immersing a foggy boulevard in a tender mist of colours or outlining a Venetian palace in refined contours.