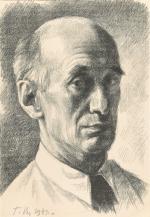 Georgy Semyonovich Vereisky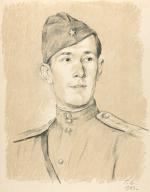 Orest Vereisky
Georgy and Orest Vereisky Heritage
In 1996, the Museum of Personal Collections was awarded the works of Georgy Semyonovich Vereisky (1886--1962) by his son Nikolai and daughter-in-law Lyudmila -- the widow of his son Orest (1915--1993). In 2003, Lyudmila presented the museum with twelve etchings by French masters of the second half of the nineteenth century -- Jean-François Millet, Jean-Baptiste-Camille Corot, Camille Pissarro and Alfred Sisley.
A leading Soviet graphic artist, Georgy Vereisky continued the classical traditions of Russian art in the twentieth century. The artistic environment of pre-revolutionary St Petersburg was an important influence on the young draughtsman. A student of Mstislav Dobuzhinsky, Boris Kustodiev and Anna Ostroumova-Lebedeva, he was close to the World of Art movement. In the 1920s and 1930s, Vereisky drew a series of urbanscapes and interiors now in the collection of the Museum of Personal Collections -- [Interior at a Lamp] (1925) and [Silhouettes at a Window] (1928). The artist also addressed the theme of the city in his later period, depicting the streets near his studio.
Georgy Vereisky mostly worked in portraiture. The distinguishing features of such images as [Portrait of K. I. Voinova] (1929) and [Portrait of Lyudmila Vereiskaya] (1951) are the virtuoso drawing and the exact plastic and psychological characteristics of the sitter. A master of lithography, Vereisky printed a whole picture gallery of contemporaries. He portrayed the collector and art expert [Pavel Ettinger] (1944) and the scholar and art historian [Josif Orbeli] (1946). The Museum of Personal Collections owns several portraits of the artist's eldest son Orest. [Portrait of the Artist's Son] (1925) and [Portrait of the Artist's Son in Bed] (1925) are now on permanent exhibition.
Like his father, Orest Vereisky was also a graphic artist and master illustrator. Such wartime drawings as [Harmonica] formed the basis for the artist's famous illustrations to Alexander Tvardovsky's poem [Vasily Terkin].
Orest Vereisky travelled throughout the world, visiting Syria, Egypt, China and America. During his travels, he made a large number of sketches, which he later developed into such large drawings as [Negro Woman Sewing a Flag] (1963--64). Such poetic works as [Birch] (1971) were created in the countryside outside Moscow.