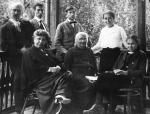 Pasternak family. Summer, 1916.
Stand (from left to right): Leonid Pasternak, the eldest son Boris, the youngest son Alexander, the eldest daughter Josephine. Be seated (from left to right): the wife of artist Rosalia, her mother Berta Kaufman, the youngest daughter Lydia.
Leonid Pasternak Heritage
The exhibition room dedicated to the art of Leonid Osipovich Pasternak (1862--1945) showcases works of painting and graphic art by this leading Russian artist. Around two dozen works -- mostly modelli of future paintings and sketches of the members of his family -- were long treasured as heirlooms, before being donated to the Pushkin Museum of Fine Arts by the artist's grandson, Yevgeny Borisovich Pasternak.
This particular show of works is partially a memorial exhibition, as Leonid Pasternak lived in the same building as the Museum of Personal Collections for almost two decades. An artist and teacher at the Moscow School of Painting, Sculpture and Architecture, he was awarded Apartment 9 at 14 Volkhonka Street by the Moscow Art Society in August 1911. Pasternak lived there with his wife and daughters until September 1921, when the family emigrated to Germany. His son, the famous Russian poet Boris Pasternak, remained in the house until the late 1920s.
When moving out of Volkhonka Street, Boris Pasternak took with him the works his father had left behind in Russia. He wrote to him on 6 January 1928: "Once again, to the very foundation -- no, to the very paper -- I have reexamined and run my hands through the witnesses of almost six years of existence … What a feeling of pride I felt, not once, not even twice, when it became clear to me, in all its terseness, that only this life has taken place and had a place, one worthy of envy, honest and real, marked by talent, success and happy fruitfulness. Nothing was added to it later; the most I could do was to keep undefiled the good name which I received from you, filling it with an even broader, fresher, happier and more significant content."
Leonid Pasternak moved into Volkhonka Street when he was at the pinnacle of his career. He was the professor of the life class at the Moscow School of Painting, Sculpture and Architecture. A founding member of the Union of Russian Artists, he contributed portraits, landscapes and interiors to their annual exhibitions. Pasternak's road to artistic fame, however, was far from easy. In 1881, at his parents' insistence, he was obliged to study medicine at Moscow University (he transferred to law in 1882). He first studied painting at Yevgraf Sorokin's private studio. In 1883, Pasternak went abroad to continue his studies and enrolled at the Königliche Akademie der Künste in Munich. He graduated from the life class with a gold medal in 1885, the same year he graduated as an extern student of law from Novorossiisk University. Only after returning to Moscow in 1888 and performing his military service did Pasternak finally decide to become an artist. In 1888, he contributed to the sixteenth travelling art exhibition.
Leonid Pasternak conveyed his impressions of military life in his first large painting -- [Letter from Home]. Pavel Tretyakov immediately acquired this work for his gallery in 1889, raising the artist's standing and allowing him to marry the pianist Rosalia Kaufman and settle in Moscow. A year later, Rosalia gave birth to their son Boris.
The 1890s and 1900s were an extremely happy period for Leonid Pasternak. He attended the drawing soirées at the house of Vasily Polenov and the studio of Konstantin Korovin. He gave lessons in private schools, illustrated the works of Leo Tolstoy and contributed to the travelling art exhibitions. The artist was famous for his illustrations to Tolstoy's [Resurrection] and life portraits of the famous Russian writer. The museum owns three portraits of Tolstoy engraved by Pasternak.
Leonid Pasternak was a master of rapid drawings, capturing characteristic movements and poses. His modelli are often far more powerful than his finished paintings. The artist often sketched the members of his family. The permanent exhibition includes portraits of the artist's wife and daughters at home, out walking, [Rosalia Pasternak at the Sea] (1911) and such cosy scenes of domestic life as [Twosome at a Table] (c. 1910). Contemporaries joked that Pasternak's children were the main breadwinners in the family. Drawings and lithographs of scenes from the lives of his children enjoyed great popularity among collectors. The Museum of Personal Collections also owns a large (204 x 75 cm) and extremely interesting canvas entitled [Self-Portrait with the Artist's Wife]. This was part of a modello for [Congratulations] (1915, Tret. Gal.).
Later, all four children fondly recalled the magical atmosphere of their home. Many famous people visited their apartment on Volkhonka Street. A close friend of Leonid Pasternak since the 1880s, Valentin Serov came here before his death in 1911. Alexander Scriabin and Serge Rachmaninoff played their new works at the house or listened to them being performed by Pasternak's wife. Jurgis Baltrusaitis, Fyodor Chaliapin, Prince Pyotr Kropotkin, Mikhail Gershenzon and Catherine Breshkovsky came to Volkhonka Street to have their portraits painted. While they were posing, Rosalia Pasternak entertained them on the piano. When Émile Verhaeren moved to Moscow in December 1913, he also sat for Leonid Pasternak.
In 1945, six months after the death of his father, Boris Pasternak wrote to his sisters in England: "Amazement at the perfection of his mastery and talent, at the ease with which he worked (jokingly and playfully, like Mozart), at the sheer quantity and quality of what he accomplished; an amazement so vivid and fervent that I am disgraced and destroyed by all comparisons on these points. I wrote to him that he need not be dismayed that his enormous services have not received even a hundredth of the recognition they deserve … that there is no justice in our lives, that fate has neither diminished nor begrudged him, that he will ultimately triumph, having lived such a sincere, natural, interesting, itinerant and rich life, part of it in his blessed nineteenth century and part of it in loyalty to it, rather than in the wild, devastated and fraudulent twentieth century, where I have inherited, instead of everything real that surrounded him, instead of his freedom, prolific work, travels and conscious and beautiful existence, merely pleasant words, which I sometimes hear and which I do not deserve."